July 29, 1935 ~ April 7, 2023 (age 87)
Obituary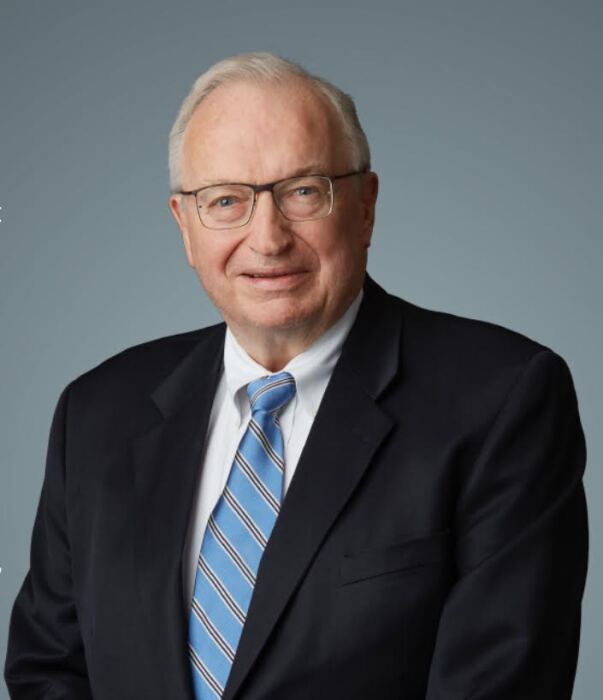 Known fondly as "Papa George" to his 21 grandchildren and five great-grandchildren, George Pellegrin McAndrews passed away peacefully on Good Friday, April 7, 2023, surrounded by his wife of 59 years, Katharine ("Kathy"; née Born), and their five children as he took his final breaths. He was 87.
George is survived by his wife, Kathy, their children, Matthew (Beth), Peter (Jennifer), Melissa, Paul (Erin), and Mary, DC; grandchildren, Mary Ann (Keegan), Kaleigh, Lauren, and Caroline; Ryan (Taya), Michael, Jack, Matthew, Paul, Kevin, Kheari, and Alexis; Max, Kate, and Nick (Madeline); Patrick, Annie Kate, Sean, and Nora; and Peter; great-grandchildren, Reeve, Audrey, Evelyn, Charlotte, and Annabelle; brother, Thomas ("Peggy") McAndrews; and dozens of nieces and nephews.
George was preceded in death by his daughter, Mary Elizabeth; parents, Patrick, DC, and Ruth (Pellegrin) McAndrews; brothers, Jack (Margaret), Jerome, DC, and David (Marilyn) McAndrews; sisters, Virginia Clark, DC, and Monica Leahy; and grandson, Tommy. George's beloved mother-in-law (and fellow sunset aficionado) Florence Born passed away peacefully this past July.
Born July 29, 1935, in Clinton, Iowa, George was raised the fifth of seven children of Patrick, a chiropractor, and Ruth, a bookkeeper then homemaker. George graduated at the top of his class at Saint Mary's High School in Clinton. Before doing so, he captained his "Fighting Irish" (incredible, we know) teammates (including younger brother, Tom) to victory in the 1953 Iowa State High School Basketball Championship. That season, George earned All-State basketball honors, and, separately, won the Class B Championship for the discus throw in Track & Field.

George's next stop was his beloved University of Notre Dame, where he studied mechanical engineering, received a BSME with honors, and was elected "Engineer of the Year." George served proudly. During a two-year break in his undergraduate studies, he and his brother, Tom, enlisted in the Navy. As part of their deployment, the brothers participated in Operation Redwing, a series of 17 nuclear detonations conducted at the Enewetak and Bikini atolls in the South Pacific. With thousands of other military personnel, George and Tom were later officially designated "Atomic Veterans" for the unique nature of their service. George later enrolled at Notre Dame Law School, where he served as editor-in-chief of the Law Review and Chairman of the National Council of Law Review Editors. Upon graduation, he served for two years as a law clerk to the U.S. Court of Appeals for the Seventh Circuit.

George became an iconic trial attorney over the course of his 55-year career, amassing numerous victories in patent lawsuits involving wide-ranging technologies. Notwithstanding his status as an accomplished and well-known patent trial attorney, some of the work of which George became most proud was his service to the Chiropractic profession. In this regard, George served as lead counsel for the successful plaintiff-chiropractors in the 14-year, landmark antitrust case, Wilk, et al. v. AMA, et al. Many patent litigators and chiropractors alike are familiar with George's storied professional legacy.

In his own view, the crowning achievements of George's lifetime did not occur in a classroom, a sports arena, or a courtroom. Instead, George was most proud of the family he and Kathy raised and spent so much quality time with over the course of their nearly six-decade marriage. Their legacy as a couple is the love George and Kathy's children, grandchildren, and great-grandchildren have for one another.

George was also proud of McAndrews, Held & Malloy, the law firm he co-founded 35 years ago. George very much considered the firm, its many employees, and all their families, his second family.

Married April 11, 1964, George and Kathy later raised their children in the Fox Point subdivision of Barrington, where the family forged a continuous chain of fond memories. (Indeed, two of their children later raised their own families in Fox Point.) In earlier years, George enjoyed coaching each of his five children's sports teams, taking family trips, attending Indian Guides and Indian Princesses campouts with his children, debating current issues (or any issues, for that matter), attending Notre Dame football and basketball games with Kathy, his children, friends, and – later – his grandchildren, and cheering on his grandchildren at their many sporting and performing arts events. George was a gifted storyteller and master of witty (and, occasionally, unwitting) "Georgisms."

For more than 50 years, George was a vibrant member of the Saint Anne Catholic Community in Barrington, Illinois, where his and Kathy's children, and many of their grandchildren, attended school and received their sacraments. He and Kathy were active participants in numerous charitable endeavors.

Even as George battled cancer and Alzheimer's disease in his final year and a half, he made a profound and lasting impression on those around him, befriending and bringing smiles to the faces of his fellow residents, the caregivers, and the staff of his memory care facility. George never forgot where he came from . . . or where he hoped to end up. Rest in eternal peace, Papa George.

Kathy and the McAndrews children are eternally grateful for the loving, expert care George received during his time in the Memory Care Program at Prairieview at the Garlands and from Suncrest Hospice.

Visitation will be 3:00 till the time of service at 8:00 p.m., Thursday, April 13, at Davenport Family Funeral
Home, 941 S. Old Rand Road, Lake Zurich. Mass of Christian Burial will be at 12:30 p.m., Friday, April 14, at Saint Anne Catholic Church, 120 N. Ela Street, Barrington. There will be visitation at the
church beginning at 11:30 a.m. Private interment will follow at a later date.
Full obituary here: https://www.davenportfamily.com/obituary/George-McAndrews