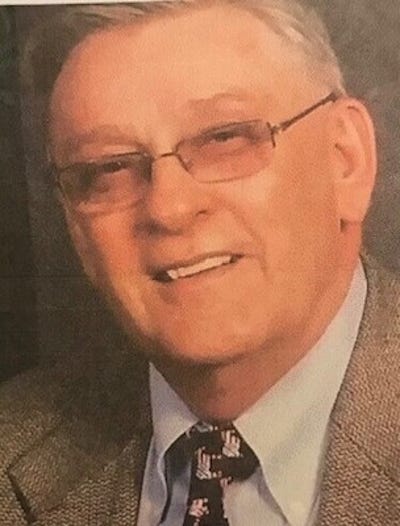 Sturgis – Dr. John A. Arnold, Jr. of Sturgis, KY died Sunday morning at Deaconess Union County Hospital. He was 76 years old. Dr. John as he was often called was born August 23, 1944 on a farm in Webster County to parents, John Alloway Arnold, Sr. and C. Justine Blackwell Arnold.
He spent early school years in Webster County grade schools. He was interested in playing sports and transferred to Sturgis High School where he excelled in basketball, football, and track. After graduation in 1963, he enrolled in Lincoln Chiropractic College in Indianapolis, Indiana and graduated in 1967 with his Doctor of Chiropractic degree. He joined the practice of Dr. A.E. Niese and practiced for 42 years. Shortly after starting work he encountered a delay when Uncle Sam called. He entered the U.S. Army for two years serving during the Vietnam era in Okinawa the Ryuku Islands. He returned to Sturgis and continued his practice. In 1966, he married his high school sweetheart, Nancy Sandra Stevenson. They became proud parents of two children, a daughter, Alisa Beth Arnold and a son, John Alloway Arnold III. Dr. John was very active in his profession's legal affairs and worked over the years to improve respect for and laws and recognition of the profession to the benefit of their parents. He and a college friend, Dr. Frank Hideg continued their involvement and were both awarded Lifetime Achievement by the KY Association of Chiropractors in 2012.
In the 1970's, he became interested in local politics and served as Sturgis city councilman and mayor during this time. Serving sparked an interest and desire to do more in state politics and was elected to the Kentucky State House of Representatives in 1995. He served for 20 years his District of Union, part of Henderson and part of Daviess Counties. He was Vice Chair Appropriations and Revenue, a member of Agriculture and Small Business and Vice Chair of Health and Welfare. He was a member of First Baptist Church, Sturgis Kiwanis Club, and a Charter Board Member of Union County Economic Development Foundation. He really enjoyed watching his children grow and participate in sports and other activities. Especially fun was coaching the little league basketball.
Dr. John was survived by his wife of 54 years, Sandy S. Arnold; his son, John A. Arnold III of Henderson, KY; his daughter, Alisa Beth Arnold and Pam Coalson of Canton, GA; his grandchildren, Abigail, Emma, Bailey, and Hagan Arnold along with a new great granddaughter, Swae Martin.
The service will be 11AM Wednesday, 7/28/2021 at First Baptist Church in Sturgis. Rev. Shane O'Guin will officiate. The burial will be in Pride-Bordley Cemetery. The visitation will be 5-8PM Tuesday at Whitsell Funeral Home in Sturgis and 10AM until service time on Wednesday at the church. Memorial contributions can be made to Union County Happy Packs, PO Box 718, Morganfield, KY 42437. Online condolences can be made at www.whitsellfuneralhome.com
original post: https://www.thegleaner.com/obituaries/evc029492