New this year! Instead of a 2-day convention, we are only having 1 live day from 9am EST – 1pm EST. This will allow for more flexibilty and more time to spend with your family on the weekend. You will still be able to earn up to 12 CEs by registering for the entire convention.
Check out the video below to learn more!!
Foot Levelers, Inc.
518 Pocahontas Ave.
Roanoke, VA 24012
USA: 800.553.4860
footlevelers.com
Viotron International, LTD.
8122 E Fulton
Ada, MI 49301
800-437-1298 (phone)
888-409-6733 (fax)
Complete the fillable paper registration form!
Return to the KAC via:
Snail Mail (address on the form)
Fax (855-813-5300 OR
Email: KAC@theKAC.org
Once received, staff will register you for the coures. Since this course is virtual, be sure you know how to log in to your account before the class starts!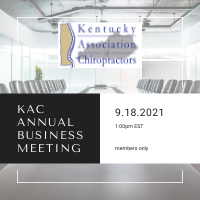 The KAC Annual Business Meeting is scheduled for September 18, 2021 at 1:00pm EST following the live sessions for the day.
Scroll down for more information regarding the 2021 KAC Annual Business Meeting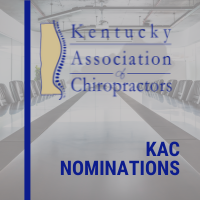 The KAC Board of directors are holding their annual nominations ahead of their upcoming elections on September 18, 2021. Click below to learn more and submit your nomination!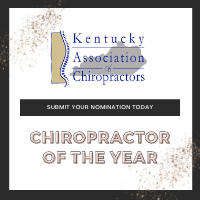 The Kentucky Association of Chiropractors are currently taking nominations for their prestigious Chiropractor of the Year award.
Click below to learn more and submit your nomination!!
Dr. Rob Silverman, DC, DACBN, DCBCN, MS, CCN, CNS, CSCS, CIISN, CKTP, CES, HKC, FAKTR
Dr. Robert Silverman is a chiropractic doctor, clinical nutritionist, national/international speaker, author of Amazon's #1 bestseller "Inside-Out Health," founder and CEO of Westchester Integrative Health Ctr. He graduated magna cum laude from the University of Bridgeport College of Chiropractic and has a Masters of Science in human nutrition. The ACA Sports Council named Dr. Silverman "Sports Chiropractor of the Year" in 2015. Dr. Silverman is on the advisory board for the Functional Medicine University and is a seasoned health and wellness expert on both the speaking circuits and the media. A frequently published author in peer-reviewed journals and other mainstream publications, Dr. Silverman is a thought leader in his field and practice.
Dr. Manual Duarte, DC, DABCO, DCBSP, CSCS, MSAC, MS
Dr. Duarte is a tenured professor at the National University of Health Sciences in Lombard, Illinois.  He has many years' experience teaching classes in spinal and extremity adjusting, kinesiology, Sports injuries, Orthopedics, Acupuncture and case management.
 Dr. Duarte has served as a Clinician at National University of Health Sciences clinic in Lombard Illinois. He also held positions of Clinical Director, and Chair of Clinical Practice overseeing the Chiropractic, Naturopathic and Oriental Medicine programs in National's seven clinics. Dr. Duarte currently holds the titles of Chief Clinician of Chiropractic Clinical Practices and Intern Development Supervisor. Dr. Duarte has served on numerous University committees and is continuously engaged in scholarly activities, community service and research.
Dr. Duarte has been in private practice for 31 years and is the former owner and director of Body Fitness Physical Medicine and Sports Injury Clinic. Dr. Duarte has written numerous articles on such topics as; sports medicine, orthopedics, Injury management and acupuncture. 
The KAC Annual Business Meeting will take place on Saturday, September 18 following the livestream for the day – approximately 1:00pm EST.
If you are interested in attending the Annual Business Meeting but do not wish to register for the 105th Annual Convention, please email the KAC at KAC@theKAC.org and a link can be sent to you!
Saturday - September 18, 2021 LIVE
9:00am EST – 11:00am EST – Dr. Rob Silverman via live webinar
There will be a break in here!
11:00 am EST – 1:00 pm EST – Dr. Rob Silverman via live webinar
1:00 pm EST – KAC Annual Business Meeting
OnDemands
Following the live presentations on 9/18/2021, 8 CE hours will be available OnDemand in your account to watch on your own time! 
We have given you your weekend back! 
This allows for increased flexibility and CE when you want it!
Dr. Rob Silverman

Natural Approaches to Healthy Immune Functions in a Novel Time – 2 CE hours – Live 9/18/2021
21st Century Approach to Musculoskeletal Conditions – The Gut-Joint Connection – 2 CE hours – Live – 9/18/2021
Musculoskeletal Laser Therapy: Proven Protocols for Clinical Success – 2 CE hours – OnDemand

Dr. Manual Duarte

Evaluation and Rehabilitation of the Low Back Pain Patient – 6 CE hours – OnDemand
All 12 CE hours (including the 4 live hours) will be available OnDemand following the live presentations. Please allow up to 72 hours for processing of the two live sessions.
Ultimate & Enhanced Member
Earn up to 12 CEs

Access to exhibitor and vendors

1-year access to complete all 12 hours

Ultimate members receive all KAC credits included with their membership. Login to register!
*Enhanced members receive up to 18 CE hours/year with their membership. Login to check your account for your credit available
General Member
Earn up to 12 CEs

Access to exhibitor and vendors

1-year access to complete all 12 hours

Includes 1st, 2nd, 3rd, General, Life and out of state members
Nonmember
Earn up to 12 CEs

Access to exhibitor and vendors

1-year access to complete all 12 hours
Disclaimers
This course has been approved by the Kentucky Board of Chiropractic Examiners
PACE Pre-Check Course ID #: 58803